• Kitchens  • Wardrobes  • Bookcases  • Bathrooms  • Home Offices  • TV Units • Alcove Units  • And More…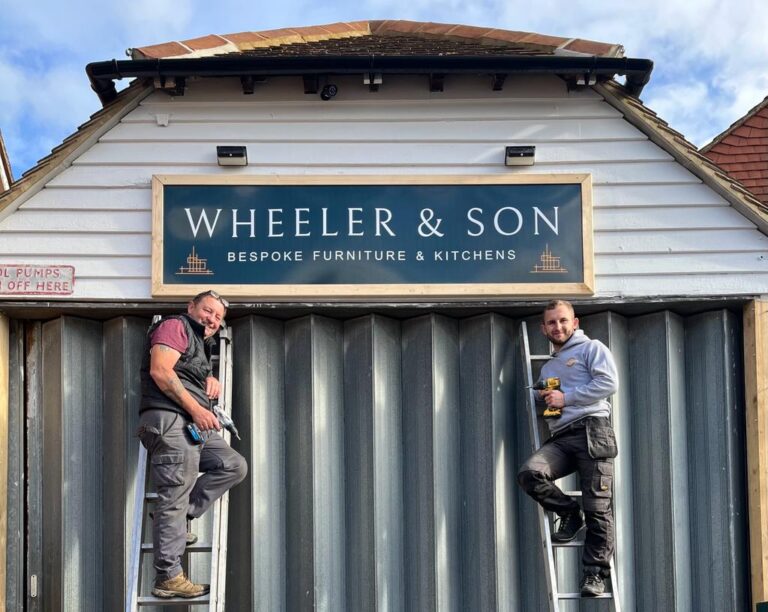 Starting the company over 30 years ago, Dave Wheeler began building tables, wardrobes and other small household furniture. Fast forward to 2021, Dave handed over the business to his son, Lewis Wheeler, and they continue building kitchens and other storage solutions together.
We are a family run business specialising in handmade bespoke furniture and kitchens. We offer a calm and personal experience when it comes to designing, making and fitting new cabinets, whether that is a kitchen, bookcase, wardrobe or any other project.
Everything we make in our workshop is completely bespoke, eliminating standard sized cabinets and maximising your storage capacity without restricting your desired design or specification.
We do not outsource any of our work therefore you would be communicating directly with us throughout your entire project.
Our cabinets are typically manufactured using solid wood with hardwood fronts; however, we can use veneers for your exact requirements.
• Handmade  • Solid Woods  • No Outsourcing 
• Established for 30+ years  • High Quality  • Personal Service
Thank you so much Lewis and Dave for helping create our new kitchen. From start to finish you have both been extremely professional and helpful in suggesting ways to create... read more our perfect kitchen!

Alex Bolton


Lewis has made some stunning items for our house so far. Everything has been a dream using Lewis wheeler and sons. We have had a pantry and bootroom build by Lewis... read more and couldnt be happier now we are onto the next job of the office. Can't wait to see what Lewis is going to design for this room transformation. 5 star service and quality built furniture.

Stacey Louise


We were lucky enough to "find" Dave back in 2012 - our first renovation! We have not used another joiner since - their work is always incredible - they always... read more deliver what we planned - from my terrible pencil drawings! We have had kitchens, boot room, bathrooms, panelling, dressers - and most recently a wonderful unit for our snug! At the same time they made an outdoor kitchen for us and added a fabulous breakfast bar to the huge island they made a few years ago. We consider ourselves so lucky to have met Dave and then Lewis - truly lovely people and never will leave until things are perfect! I am busy planning my next project for Lewis - he will be delighted to receive on of my "sketches"!!

Hannah Davey


Friendly, precise, creative. Absolute stars. Lewis, Dave, what can i say…you made my kitchen 5-6 years ago and i called you back for a second time. I would gladly call you... read more again! This design was a first for you and you absolutely smashed it, I LOVE IT. Looking forward to the last few bits going j. and after the worktop is fitted i will share the finished job in all its beauty. Grazie, Erica.

Erica Vit


From start to finish, the whole process was simple, and nothing was too much trouble for Lewis, so pleased with the shelves he made and fitted for us. ... read more Cannot recommend you enough

Phillip Jenner


Lewis made us a oak top for our kitchen table and did an awesome job, it show cases the beautiful oak and craftsmanship perfectly. Quick to quote and finding a... read more way of getting it turned around fast was really appreciated. I would highly recommend Lewis for any carpentry needs.

Michael Edwards


An absolutely stunning bench made by Dave & Lewis. Such a prompt and courteous service from start to finish. We were in need a bench that would provide storage for... read more the endless baby items and also a place to sit and enjoy the view and this bench has done both. Thank you so much!

Laura Anne

Lewis made a fantastic run of kitchen cabinets for my new home including a wonderful larder cupboard. His attention to detail is second to none and the finish excellent. He... read more is a joy to work with and extremely cost effective - I'm already planing my next project!

Andra Heritage


Lewis fitted our bathroom unit and we are so pleased with the finished product. We was really grateful for the extra effort and late nights he put in to ensure... read more it was completed on time! Would definitely recomend to anyone and always good to support a local business! Thanks Lewis!

LIons


Lewis made us a bespoke fitted double wardrobe and some fitted bookshelves. Both jobs were completed in good time and we're really pleased with the quality. I also thought... read more that it was very good value

david everingham


We used Lewis as we wanted a bespoke piece to fit our record player, vinyl collection, sound system and TV. We gave him a very basic drawing and measurements... read more and put together a beautiful bit of furniture that suited our needs perfectly. He kept us up to date throughout. We would not hesitate in using him again.

S S